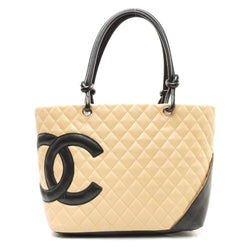 Chanel Cambon Line Large Tote Bag
$1,690
$1,352
with code FLASHSALE23
This item is
100% Authentic
, and it comes with a free Jebwa Authentication Certificate.
Pre-owned
Condition: Very Good
This pre-owned item have been carefully inspected by Jebwa. Please see pictures for condition details.
The discontinued Chanel Cambon is a classic bag with a diamond quilting frame, a smooth leather pad on the bottom right, and embossed large CC logo on the left side. The handles are polished with a knot with a back pocket. You can carry this on the shoulder or by hand. The ideal bag to stylishly hold your necessities.
Item Condition:
Very Good condition. Perfect for daily use.
Exterior: Some rubs and peeling on the corners. Minor rubs and stains on the surface.
Interior: Minor rubs and dirt on the lining. No bad odor.
Comes with: Leather care manual.
Please see pictures for more details.
- Size: W:11.4" x H:9.44" x D:5.11"
- Handle/Shoulder Drop: ~10.0"
- Material: Leather
- Made in France
- Color: Tan
- Serial/Datecode:
9782513
- Style: CAMBON
- SKU: 8366C72
Guaranteed Secure Checkout
We offer easy Returns and 30-Days money-back guarantee.
We are trusted by thousands of luxury shoppers globally.